This article is a stub
You can help D.Gray-man Encyclopedia by expanding it!
Luigi Fermi (ルイジ・フェルミ; Ruiji Ferumi) is a member of the Black Order and the Branch Head of the Middle Eastern Branch.
Appearance
Louis is a short, somewhat heavy-set older man with short, combed back hair and a flat nose. Like his fellow Branch Heads, he wears a long, white coat with silver crosses and a Rose Cross badge, symbolizing his status as a Branch Head.
Personality
Louis seems to be somewhat sardonic, seen asking a terrified Bak Chang if his rash has gone away after the younger man is frightened by Inspector Malcolm C. Lvellie.
Plot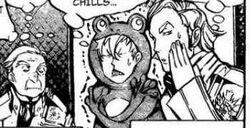 Louis is seen briefly at a meeting involving the Black Order Branch Heads and the Generals, two of the latter of whom have just returned from a mission in Japan. When Lvellie passively threatens General Cross Marian, making the others in the room shrink back and shudder, Louis flatly asks a shivering Bak (who is wearing a frog suit in that one panel for comic effect) if his hives have gone away[1].
Trivia
Louis' interests include the radio, mystery novels, and he dislikes trouble.[2]
References