The title of this article is conjectural!
Although this article is based on canonical information, the actual name of this subject is pure conjecture.

Tyki's Dancing Partner is an unnamed lady who was present at the bal held by Minister ­Sheril Kamelot in his estate. She accompanied her mother at the reception and got to dance with Tyki Mikk.
Appearance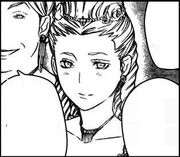 She is a pretty young blond lady with turquoise eyes. Like her mother she is dressed fancily. She has red round earrings and a pearl necklace. She has a pinkg evening dress. Her long hair are tied at the top and ornated with a sort of tiara with roses.
Plot
She betakes herself to her first bal with her mother in the Kamelot Residence. There she is introduced to Tyki Mikk by her mother and seems rather intimidated by his presence. Her mother asks the man if he will give a dance to her daughter and he agrees. They dance on the scene while Road and her father watch the scene. Sheril comments that she is cute and he would like to dance with her but he adds that Road is much cuter.