The title of this article is conjectural!
Although this article is based on canonical information, the actual name of this subject is pure conjecture.

The Unnamed Gentlewoman is an unnamed woman of a wealthy family who knows the Lord Millennium and participates in a ball held by Sheril Kamelot.
Appearance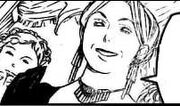 The lady is a middle-aged blonde woman of average height. She is fancily dressed with golden earrings and necklace. She wears a purple evening dress and make-up.
Plot
She proceeds to the bal held by Sheril Kamelot in the Kamelot Residence with her daughter. There she takes part in the festivity and is seen laughing while talking to one of the guest and telling them to visit her sometimes. She glimpses Tyki Mikk in the crowd and happily remarks that she hasn't seen him for a long time. Tyki nods and she asks about lord Millennium as she could not come to the last tea party he organized. Tyki says he will give the message and asks who the lady next to her is. She introduces her daughter to Tyki and asks Tyki to give her a dance.