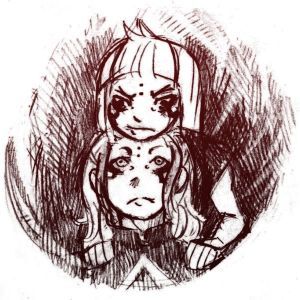 About me
| | |
| --- | --- |
| | "The Innocence in his left arm was like a rough jewel before, unstable and unrefined..." |
Ok... I guess it's hight time to say something about me - which is hard since I never know what to write about myself. I've been interested in manga/anime since the Sailor Moon was on the TV - which was pretty long time ago. Seriously I was 10 I guess. since then quite a lot of mangas those more and less popular went through my hands(like Dragon Ball(Kajika and Sandland too if we talk about Toriyama works), Naruto, Bleach, fullmetal alchemist, Ruroni Kenshin, Beelzebub and more - as you can see mostly Shounen mangas) I've started to read DGM somewhere a year ago - I saw a great fanart on DeviantART and decided to check "this cool manga" up. right now apart from Beelzebub(FMA's ended) it's the only manga I actually follow(and the only I can't wait to see next chapter).
I do also try my strength in drawings comics/graphic novels and, as every, wanna-be story-teller I dream about international fame(pitiful laugh)
My Favourite...
...Characters
although I prefer Hoshino's old style of both drawing and storytelling I mostly prefer new characters over old ones:
...Formation
I simply adore the idea of CROW - the Vatican's assassin-like Inquisition(whom nobody expects!) won my heart right after it was introduced, and I hope more about them will be revealed in the near future!
My DGM wikia goal
I've decided to show up on this wikia to expand and categorize already existing articles(mostly the ones of the secondary characters so that every aspect of the wikia stays well informed), clean sections from fake infos (mostly these written by too overzealous shippers), add references and useful photos/pictures
Polska wikia o tematyce DGM potrzebuje WASZEJ pomocy!
BARDZO PROSZE O POMOC WSZYSTKICH POLSKICH UZYTKOWNIKOW(lub tych co potrafia polski) TEJ (anglojezycznej) WIKI DO WSPARCIA JEJ POLSKIEGO ODPOWIEDNIKA.
nie jestem ani jej adminem ani moderatorem tylko takim sobie normalnym uzytkownikiem (ktory notabene znalazl ja dzisiaj) - ale pomyslalam, ze jak juz tutaj odwalacie swietna robote to i tam mozecie cos skrobnac(i bedzie prosciej bo duze pole do popisu i ojczysty jezyk!)!
wikia jest w takim nieladzie i tak tam piszczy pustka i bieda, ze az mozna ogluchnac!
wasza pomoc jest tej stronie niezbedna!
ADRES JEST TU: http://pl.dgrayman.wikia.com/wiki/D._Gray-Man_Wiki